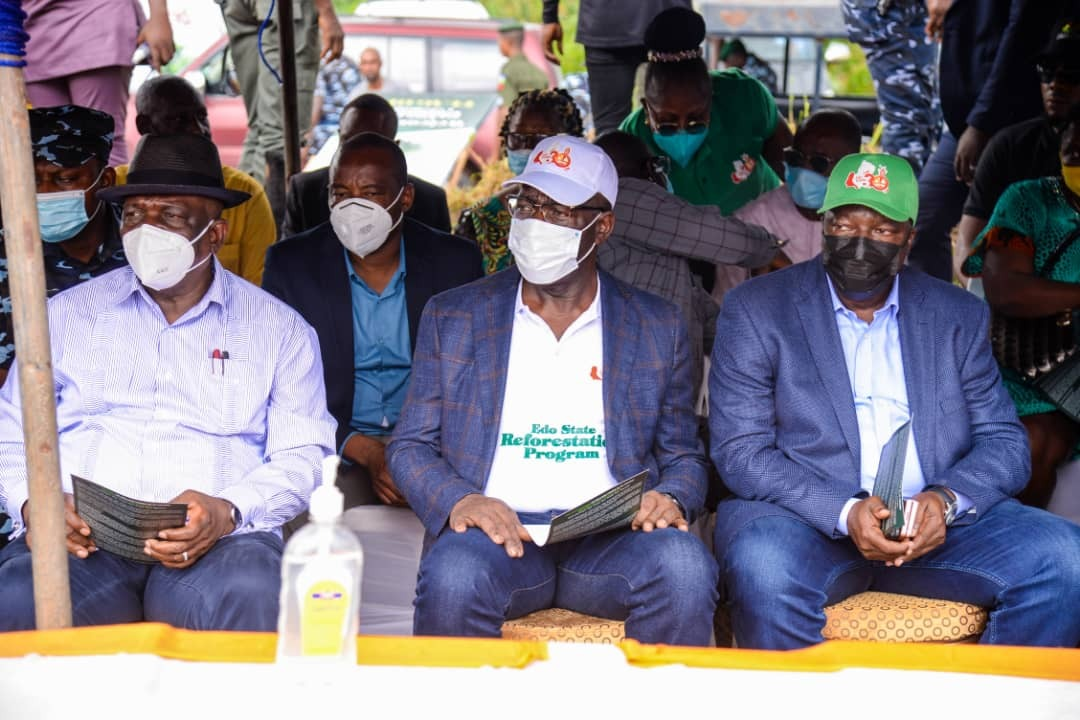 Health, environment and safety are on the agenda for Edo's 30th anniversary
Edo State Governor Godwin Obaseki said the state government will continue to invest in preserving the health, safety and environment of the people of Edo as the State celebrates its 30th anniversary.
Obaseki said this when launching an organized tree-planting campaign in Idu village in Orhionmwon local government forest reserve, as part of activities marking the 30th anniversary of Edo State. . The tree planting campaign is part of the government's reforestation initiative to plant ten million trees over the next ten years.
According to him, "As we celebrate Edo's 30 years as a state, we must realize that we live in a world ravaged by the coronavirus pandemic (COVID-19). We have lost loved ones: friends and family. Even as we celebrate our glorious nation and proud heritage, circumstances demand that we make every effort, as a people, to ensure that we protect ourselves against this deadly scourge.
"Given the nature of this extraordinary enemy, we must quickly adopt a sustainable approach to effectively deal with this scourge and the disruption associated with it. That is why to beat the virus, vaccination is a necessity.
"These countries and communities with high immunization rates have fewer hospitalizations and lift all restrictions. We need to be at the forefront to ensure that we are all vaccinated against COVID-19 so that we can build collective immunity and more lives are not unnecessarily lost. "
He continued, "As we protect ourselves from the pandemic, we also need to be aware of our surroundings. Environmental sustainability is the key to our cultural and economic preservation. The rich forest reserves that our ancestors bequeathed to us have been seriously degraded and depleted, resulting in adverse weather conditions that threaten our existence as a people.
"Edo has always been known as the center of the rainforest belt in Nigeria and West Africa and we have a responsibility to regenerate our forests. It is for this reason that we, together with private stakeholders, have launched a reforestation program to plant ten million trees in Edo State over the next decade. We must balance environmental sustainability with livelihoods and strategically reclaim our vast forest lands for present and future generations.
"As we celebrate Edo's 30th anniversary today, we need to focus on environmental sustainability. In the post-fossil fuel era, we must strive to revalue our natural resources in forestry and its value chain. This is why I will be planting trees as an important step in achieving our forest regeneration goal of ten million trees over the next ten years.
"Along with our forest regeneration campaign, we also want to keep our forests and lands secure. With your support and the collaboration of state security agencies, we will re-establish a forest protection force to ensure that bandits cannot use our forest as a base to encourage crime, "noted the governor.
Reassuring the government's commitment to the safety of the lives and property of Edo citizens, Obaseki said: Activities are kept to a minimum.
"Our security strategy is based on the collaboration between the national security structure and the Edo State Vigilante community security network so that community participation is a key part of our security plan. "
He further added: "Our mission to Make Edo Great Again (MEGA) will be a pipe dream without rethinking the methods that have brought us to this point and recalibrating existing systems to meet our particular challenges, in the quest to compete. and dominate in a rapidly changing world. To achieve our mission as MEGA holistically, we need to involve our team and loved ones in Delta State.
"We are therefore starting discussions to establish a Bendel Commission to foster mutual cooperation and collaboration in the economic, security, cultural and environmental fields between the Edo and Delta states."
"I invite all people in Edo to join in celebrating this 30-year milestone, because we have all shown the resilience, courage, strength and determination to build a strong and manly state, so even that we look forward to the next 30 years of growth and sharing prosperity, "the governor accused.
Sharing a brief history of the origin of the Edo people, Obaseki said that "the Edo nation has always been recognized as a pioneer: the ancient region of the Midwest, from which the state of Bendel was formed, was the first state of Nigeria to be established by referendum, signaling how much we have always strived for self-actualization, self-preservation and embraced democratic ideals.
"As a people we come from ancestors who demonstrated exceptional sophistication in the arts, organization and development. This captivated Europeans when their ships docked on our shores as early as the 15th century. At that time, we had built an architectural marvel with the largest earthworks in human history, with city walls four times the length of the famous Great Walls of China; traces of which are evident today in what is popularly called the moat of Benin.
According to him, "the world was in awe of the splendor of Benin City, which in the 15th century had palm oil-lit lampposts that illuminated its very wide streets, some over thirty meters wide, with canals. underground to drain stormwater and check for flooding.
Not to mention our sophisticated governance and judicial systems, with enforceable courts and criminal laws.
"With this deep history and heritage, we have come through the ages and our people have continued to leave indelible marks on the world. The spirit and blood of our ancestors are deeply rooted in us. This strong sense of identity has led us to overcome our challenges in our quest for sustainable development, growth and progress; today we are celebrating another milestone.
"Throughout our history, the main driver of our prowess has been our human capacity. It cannot be otherwise today. That is why we put the emphasis on education as the backbone of our development. The Edo Basic Education Sector Transformation Program (EdoBEST) is globally recognized as one of the most important education reform programs in Africa today.
"We are repositioning our public and civil service to provide world-class service to the people of Edo at home and abroad. We have continued to invest in our youth through various programs run by the Edo Skills Development Agency (EdoJobs), which has spawned many businesses in the Edo, Edo Tech Hub and Edo production centers. Creative Hub.
"Over the next decades, Edo State will become the technology hub in Nigeria as we forge more partnerships to train and develop thousands of young people into skilled software developers and technology solution providers. "
"While some of the challenges that beset us today may differ from those of our ancestors, but like them, our ability to make deliberate, concerted and sustained efforts to overcome adversity is very assured. In the face of difficulties, we will remain bold, decisive and united, because these values ​​have always guaranteed our survival, our advancement and our triumph, "he noted.